Better WorkStation Design for Better Health
Many office workers come to the clinic because they are experiencing pain between their shoulder blades and spine and in their neck and lower back.  Many of these patients spend most of their working day typing and/or looking at a computer screen.  Does this sound like you?  Do you feel similar pains in your upper and lower back and/or neck?
Most of this pain is due to incorrect posture and workstation design.  The solution is to set up the work station so that it optimizes your productivity and supports your wellbeing.
Here are some design factors to consider when setting up or adjusting your workspace: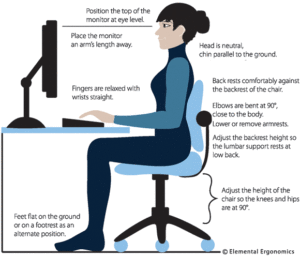 Chair: (swivel chair and adjustable is best!)
Make sure you are sitting comfortably with your feet on the floor.  I usually recommend your knees being level with your hips.  If this puts you too low in relation to the desk then use a step stool.  Make sure to keep your back straight by bringing your shoulders back, or shoulder blades together and down.  Avoid rolling your shoulders forward!  Try to sit up as straight as possible.
If you are standing at your work station, then a vertical posture with shoulders back is optimal.
Monitor:
It is optimal to be looking straight ahead at the monitor or slightly down if you need to look at your work.  If you wear bifocals then adjust accordingly.  Make sure that your neck is not too far back (i.e. looking up) or too far forward (i.e. looking down).  Both scenarios will create neck pain.
Keyboard:
Avoid having to reach to use your keyboard.  Reaching will encourage rounded shoulders and a forward neck and eventual pain. Forearms horizontal and close to the body with neutral wrists is optimal.  The wrists should not be too far up or down.
Desk:
Your desk should be big enough to allow for proper monitor distance and to hold whatever items you need for you work day.  Some desks come with adjustable legs which can be useful in some situations.
Mouse:
Make sure your mouse is positioned so that you don't have to reach for it.  Maintain a neutral wrist when using the mouse, have your elbow close to you and rest your forearm on the desk.
Phone:
If you use the phone frequently throughout the day, having a headset is recommended.
I hope this helps. Taking frequent breaks and stretching is also recommended!
Next time you are in for a treatment I would be happy to demonstrate how to set up your workstation and share some stretches you can do throughout the day at your workstation.
Happy working!
Comments are closed