"I highly recommend Ian Dunsmuir and his acupuncture treatments.  The treatments increased my flexibility and mobility and helped me get power back in my shoulder from the stingers.  They also made it easier to get through the later games of the season."
Cody Husband #62 Centre, BC Lions
"The acupuncture treatments really helped to increase my flexibility and movement.  They also helped to relax the muscles in my glutes and hip flexors.
You gotta try it!"
Jovan Olafioye #63 Tackle, BC Lions
"Very thankful for all the work Ian has done for me. Through the trials of a season he helped me stay ready each week. While being great at his profession he's a great person.  Also, I recommend him to any athlete. Thanks for all help."
Ty Long – Kicker, BC Lions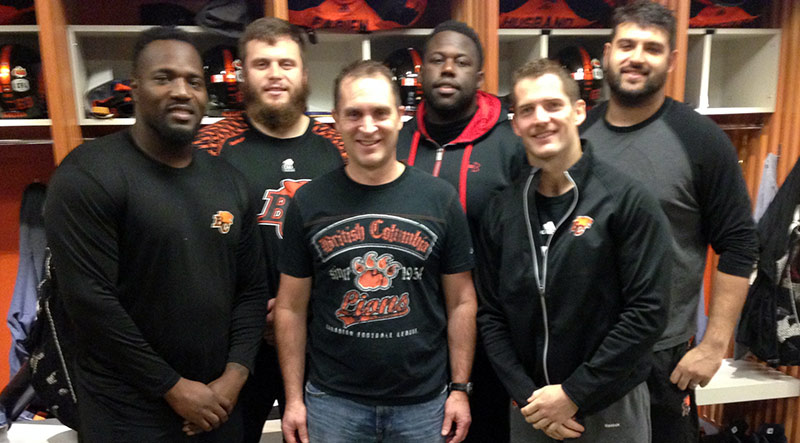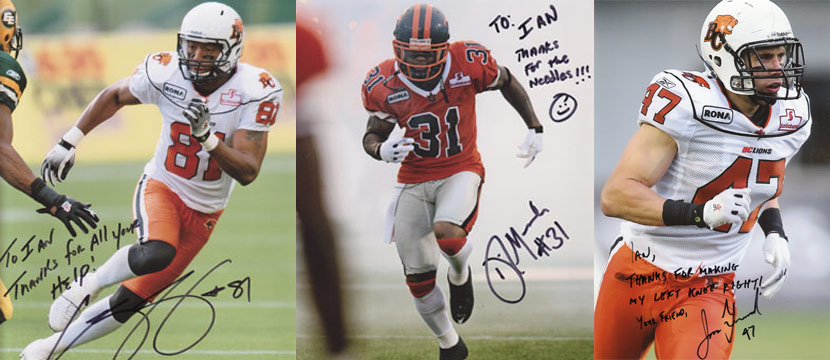 "Thanks for always taking care of me and the guys over the year.  You were always so great and patient."
Rolly Lumbala, #46 BC Lions
Retired after 11 amazing seasons with the Lions in the CFL.
"I'm so grateful I found Ian was available for acupuncture treatments. I'd heard about acupuncture for years, but always stuck to the classics of massage, physio and chiro. Well after exhausting those options after having a total hip replacement, and shoulder pain from sleeping on my "good hip" side, I reckoned I might as well give it a try. Ian pin pointed my muscle issues right away – no pun intended. (Okay fine, pun intended all along :)) I love acupuncture now and I am happy to brag about how wonderfully professional, attentive, informed, intelligent and all around cool Ian has been with my treatments. Plus he has super impressive sporting posters in his rooms, if you like that sort of thing. Ian has been dong this a long time and I don't know about you, but when it comes to putting little needles in my body, I want someone who knows what they are doing! Thanks for being amazing Ian
K.M.
"I was referred to Ian at Healing Point by a family member.  Although it's a bit of a drive to get there, I'm so happy that I followed that advice.  In just a handful of visits, the pain that I was experiencing has lessened so considerably that I can carry on with most activities that I've been unable to do for some time.  The fact that Ian also has a kinesiology degree that he incorporates into his practice goes a long way in his ability to not only target the areas that need relief, but also provide very useful information and recommendations to assist in recovery.  His positive and easy going disposition makes for a very comfortable and pleasant experience.  There's no doubt in my mind that these treatments have helped me considerably.  Would definitely recommend."
A.W.
"I'm truly grateful to have found Advanced Healing Arts! When I first starting going to Ian for acupuncture I was in a great deal of pain and could barely walk due to a herniated disc. My whole body was tight and I had been rendered basically inactive for about a month. I had severe sciatica and not much seemed to help me. But, with just a few sessions with Ian, I am experiencing amazing progress and now after just about 5 weeks of acupuncture I'm doing yoga and going out for long walks and hikes! I can confidently say Ian greatly impacted my recovery in a positive way and I'm not sure I could've come so far so quickly without his help!"
Caitlin 
"Huge SHOUT OUT and THANK YOU to Ian Dunsmuir of Advanced Healing Arts in Port Moody for working his magic and getting my beautiful dancer back on stage for her year end recital. Says something huge when your 17 year old begs to go see your acupuncturist!!! So amazing to watch her on that stage."
Nancy T.
"I had two issues I needed addressing with Ian.
One issue was my back of course, but the other was my shoulder.  I was told that I had rotator cuff issues and aside from surgery, there was no real option here.  Ian fixed my shoulder issue on the FIRST VISIT – no lie.  I walked out of there with NO SHOULDER PAIN and it has never resurfaced since.
My back pain is an ongoing issue but through his treatments, I am enjoying a whole new quality of life that I never thought was possible.  I had a major flare up a month ago where I was literally unable to walk or sit down since one of my disks had slipped.  Ian went the extra mile and helped me through that episode.  I believe he was the driving force behind my quick recovery (in less than 10 days).  Since that time, I have been getting stronger, and he has some new ideas that we are going to try that will hopefully prevent that kind of stuff from happening in the future.
Ian is a brilliant practitioner with an astounding knowledge of the body,  and a great guy all around.  I couldn't say enough good things about him.  I have sent anyone and everyone I know to him that are experiencing "pain".  Everyone that I have sent his way are experiencing the same increase in quality of life.
Thank you so much Ian."
Kent M.
"Highly skilled and knowledgeable in all aspects of sports and overuse injuries!
Ian is my Go-To guy when it comes to muscle and tendon issues from overuse. Several times in in the past he managed to get me back on the road or back in the saddle when things had hurt badly. Most importantly, he could also explain to me cause-and-effect and exactly how he was going to treat the affected areas."
Alex T.
"I have been treated by Ian for years for neck pain and allergies (yes! Acupuncture alleviates allergy symptoms!) but only this winter, did it occur to me to seek his help when I came down with a wicked cough and cold.  Being asthmatic, once I get a cough, it lasts for weeks, if not months, and I have a very hard time getting rid of it.  It suddenly occurred to me: if acupuncture can help with my breathing and allergy symptoms, why can't it help with my coughing?
Long story short: I saw Ian, he agreed with my theory, and without exaggeration – I entered his office coughing non-stop, by the time I came out of my appointment, my coughing had subsided to ten percent of what it was an hour before.  That was just after ONE treatment!  I went back for 3 or 4 more over the next 2 weeks, and even though I know acupuncture did not cure my cough/cold, it certainly helped to alleviate the worst of my symptoms, allowing me to function during the day, and sleep soundly at night.  Thanks Ian!"
Angie W.
"I could not be more happy with the success from my treatments with Ian. I came to him with digestive issues being sensitive/allergic to many foods including gluten. After a couple sessions, my stomach issues improved immensely and I am now able to enjoy foods I wasn't able to eat before! I am truly grateful for everything Ian has done for me. He is extremely knowledge and absolutely wonderful to work with. I would highly recommend Ian to anyone!"
Christina D.
"It is with deep gratitude and excitement that I share my experience with anyone who may be considering acupuncture as an avenue of health and recovery.  I recently suffered tremendous pain from 2 SI joint injuries which rendered me unable to walk.  I sought out physiotherapy  and was told that I would not be able to cycle for 8 or 9 months.(WRONG ANSWER)The exercise regime given to me caused more pain and as a result, I felt defeated.  I thought I may not ever ride again.  Then, another cyclist told me how Ian Dunsmuir – "the guy at Advanced Healing Arts"  got him back riding again in no time.  I knew that's what I needed.  So, I hobbled in to see Ian and after one treatment of acupuncture and injections I felt instantly better.  After the second treatment, I would never have known that I ever had an injury.  It works that well – AND that fast!!  I keep saying, "It's a Miracle!"  My speedy recovery definitely is miraculous and I'm so pleased to find relief without the use of medication.  Ian knows his stuff!!
Thank- you, Ian!!"
Heather Andruski
"To me, acupuncture is essential for active rehab, vital for recovery and preparation and imperative for preventative maintenance… Acupuncture is highly effective at loosening tight muscles; it speeds up the recovery process by at least 50%. Thanks for all the help Ian! I highly recommend acupuncture to athletes of all levels and in all sports."
Curt Malawsky – Professional lacrosse player Calgary Roughnecks, National Lacrosse League Champions 2009
"Ian literally would cut my recovery time in half and get me back playing and feeling better. I would recommend any athlete to see Ian and guarantee that you would get the results you want."
Pat Coyle
"After 1-2 months of treatments with Ian the quality of my lifestyle was restored… My Biggest thanks to Ian who has made it possible for me to maintain this active quality lifestyle."
K. Woo
"I wanted to say thank you very much for relief. Last night, I felt like a whole new person; relatively speaking, pain free!!!!!!!!!!!!!!!!!!!!! I slept for the first time in three weeks. The treatment worked like a dream. Thanks."
LP
"I will definitely continue with acupuncture treatments to continue to release and clear any residual anxiety and improve my sense of calm and well-being. I am so thrilled with the results!"
Kim R.
"Thanks so much. I should have come to you a long time ago. I walked 2 hours at the Seawall yesterday and had no pain after wards. This is incredible. Thanks."
Gail
Very happy with Ian.  I have been suffering with a herniated disc since 2020.and have been off work since then–and started seeing him just a week ago (March 2021) and he's made amazing progress with me I already feel like I am getting my life back–each time I see him another big part of my injury seems to clear up!  I would recommend him every time–I was desperate in looking for new treatment  and I'm so grateful I got referred to him.  He's great!
Sam Palmer
---